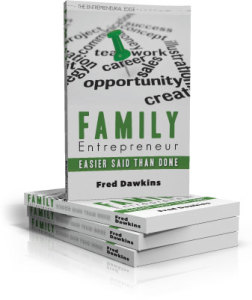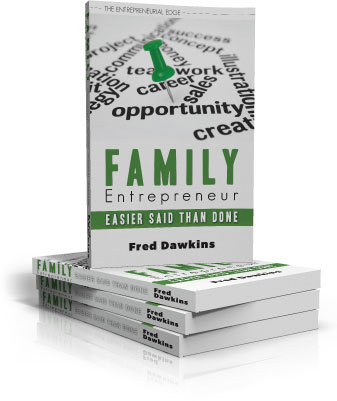 "Fred Dawkins sure can tell a story. I really enjoyed his previous one: Everyday Entrepreneur. Again with Family Entrepreneur, he gives us a great story and a pleasant read. He provides wisdom, comfort and learning about entrepreneurship from a family enterprise point of view. I kept thinking of those I know in that situation that would have benefited from reading it earlier in their life. If you are part of a family enterprise, here's a chance to learn from Fred, an accomplished family entrepreneur, and make your life much more effective and rewarding."
Brendan Calder Entrepreneur in Residence and Adjunct Professor GettingItDone
Rotman School of Management U of Toronto.
After reading Family Entrepreneur: "In the age of Twitter, it warms the heart that 'smallbizpreneurs' still rule the roost and family business remains the proven formula"
Peter C. Newman – Legendary Canadian journalist and author
Author Fred Dawkins has penned another winner with Family Entrepreneur. The third party narrative style of storytelling allows for a variety of opinions to be put forward while maintaining an entertaining read. Chalked full of real life scenarios and challenges that face every business, the Family Entrepreneur will engage all entrepreneurs from every generation, whether in a family business or not.
David Wojcik Host and Executive Producer BiZ TV Canada
"Working in the Financial Services industry for fifty plus years, twenty seven as an Independent Financial advisor, I dealt with high net worth clients & many successful family businesses. The first book in this series was very good but I believe that this second one ought to become the bible for every entrepreneur & budding entrepreneur as it is full of very valuable, helpful & vital advice & is very cleverly written. It is a book that should be read over & over & dipped into whenever there is a query or problem"
Frank Weisinger – Past National President of the Life Insurance Association (UK)
"Recently I was in the process of selling my historically significant commercial building. During the negotiations with realtors and prospective buyers, poring over lists, namely needs, wants, and conditions, I was overwhelmed and sought a diversion. In Fred Dawkins book, "Everyday Entrepreneur" I quickly became immersed in the text. His counsel on the key elements in negotiations in Chapter 18, Planning and Control, awakened in me an appreciation for what was most important for me as well as for the buyer, and the need for flexibility to reach an agreement. I accepted that it truly was a process that had to evolve, and because of his advice I felt empowered and confident to negotiate the sale."
Elaine Tucker, Independent Business Owner
Fred's book is thought provoking, highly entertaining while being truly insightful. Readers are challenged on their own beliefs and characteristics regarding entrepreneurship, mentors, career, and family. At times, I was laughing and other times intrigued by the business concepts subtlety being offered. It is full of rich ideas on how to develop and maintain an entrepreneurial mindset and how to build a business the right way, avoiding the issues that have caused others to stumble. As a serial entrepreneur and business coach I highly recommend Fred's "Family Entrepreneur" for those in business or thinking about starting one.
Bill Simmel CEO& Founder Phoenix ONE Sales, Marketing, Management + Communications Inc.
In his second book Family Entrepreneur Fred Dawkins uses the same intimate discussion format that made his first book, Everyday Entrepreneur so informative and such a great text for seminars. Fred's experiences as a successful family entrepreneur form the bases of real life discussion for concepts such as funding through leadership and the pitfalls and opportunities of personal issues, entitlement, rewards and succession that have special significance in a family setting. Best expressed in his own words "Entrepreneurship is a life philosophy grounded in opportunity, fueled by determination and focused on results." Whether a beginner, well into an entrepreneurial venture, or a professor of business, this book is a must. It's great stuff.
Dr. Freeman McEwen Dean Emeritus, University of Guelph
Reading Fred Dawkins book 'Family Entrepreneur, Easier Said than Done' is like having an experienced business coach who's already walked down the same road you're traveling, right there with you. While reading this book you're bound to sigh with relief as he examines all the mildly crazy things we do as family entrepreneurs (we are not alone!). You'll raise your eyebrows, smack yourself on the forehead and underline text reflecting his simple solutions and powerful observations and you'll feel a surge of motivation as you put them into play immediately. So accurate are his examples of family business dynamics that you'll feel such a familiarity with Dawkins' writing you'll swear he's been reading your email. Written in a storybook format that's enjoyably easy to read, you'll want to take this book along with you on your next vacation. I have a hunch it's going to be a book I return to and recommend on a very regular basis.
Sherri J Griffin 20 Year Training & Development Professional
"This book is an exceptional read that paints the bigger picture of entrepreneurship through easy but important dialogue. I recommend anyone interested in starting a business or entrepreneurship in general read this and take notes."
Douglas Lusted CEO Linkett, The Next 36, First Cohort The Creative Destruction Lab at the Rotman School of Management, University of Toronto, Velocity Venture Fund Winner University of Waterloo
Utilizing his exemplary storytelling skills, Fred Dawkins has written an excellent book about entrepreneurship in a family setting environment and the the many challenges that it places on the entrepreneur and the family, as well. As indicated in his subtitle, it is easier said than done. The book clearly articulates a number of the issues involved in running a business so that the primary owner can prosper yet not conflict with family values, expectations, including physical, as well as financial and emotional needs. He cleverly exposes how frequently family members butt heads during the running of a family business and how difficult it can be to resolve differences among family members. If you're a small business or entrepreneur working with your family in your business, I would highly recommend that you read Family Entrepreneur. It will provide you with valuable insights on how you might be better able to deal with the challenges in running a "family" business.
Jeff Sheehan- author of HIRED! Paths to Employment in the Social Media Era
Family Entrepreneur: Easier Said than Done by serial entrepreneur Fred Dawkins tells real-life stories that reveal the good, the bad and the ho-hum of family businesses. In an engaging, easy-to-read format, Dawkins shows you how to find your own solutions to questions about business controls, succession, dispute resolution, gender stereotypes, or decision-making.
Traditional family businesses are being disrupted as baby boomers retire. What are the new models to keep a business competitive and family ties strong? In Family Entrepreneur, memorable maxims guide the conversation and bring the reader into the conversation. A sister who functions as the COO of her brothers' company but doesn't get the credit or financial rewards. A brother who runs a business but can't make critical decisions because their father left one-half of his company to each sibling. A brother who started his own very successful business and is being pressured by his parents to take his brother and sister into his own business. A mother who started her own fashion company and is now being overrun by her daughters.
Dawkins speaks to all entrepreneurs and 'want-to-be' entrepreneurs – those who start a business to provide for their families, to fulfill their dreams, to profit from their innovations, to be their own boss. Hear how they make their decisions – should they stay in the company? sell it? start a new business? In my own field of veterinary medicine, these situations are a recurring theme.
Focusing on family business and family dynamics, the Family Entrepreneur will give you the courage to tackle your own situation. Family relationships are complicated in the best of circumstances and running a company means constantly adapting to changing environments. Dawkins provides sage advice for anyone in a family business, emphasizing how important it is to face the issues head on as rationally as you can and not to allow emotion to dominate the conversation.
Dawkins celebrates the family business as the original business incubator and encourages would-be entrepreneurs to take the leap (after careful looking at all the options!). The valuable insights will guide you no matter where you are on the entrepreneurial timetable.
Dr. Elizabeth A. Stone | Dean, Ontario Veterinary College (OVC) | University of Guelph
In the fast paced age of corporations and global multi-billion dollar industries – Family Entrepreneur is a riveting road map for all readers, regardless of their desire to become an entrepreneur, or to simply learn key tools which will drive creativity, leadership and success in business and life.
Who said you can't teach entrepreneurship? Effective and cleverly narrated through the eyes of a young female entrepreneur, Family Entrepreneur showcases the challenges, rewards and opportunities within life and family business from varying timelines. It's easy to find one's self and relate to the characters throughout the book. It reads like a novel, but is a sneaky and fun way of teaching the tools of the trade of family entrepreneurship – or for that matter – entrepreneurship in general.
Maryam Latifpoor-Keparoutis, Senior Development Manager, College of Physical & Engineering Science (CPES), University of Guelph